A young lady, who had been her parents' only child for many years, is overjoyed as her mother finally welcomes a set of twins after a 20-year wait.
The elated lady took to social media to share the news and express her joy at finally becoming a big sister and having her own siblings.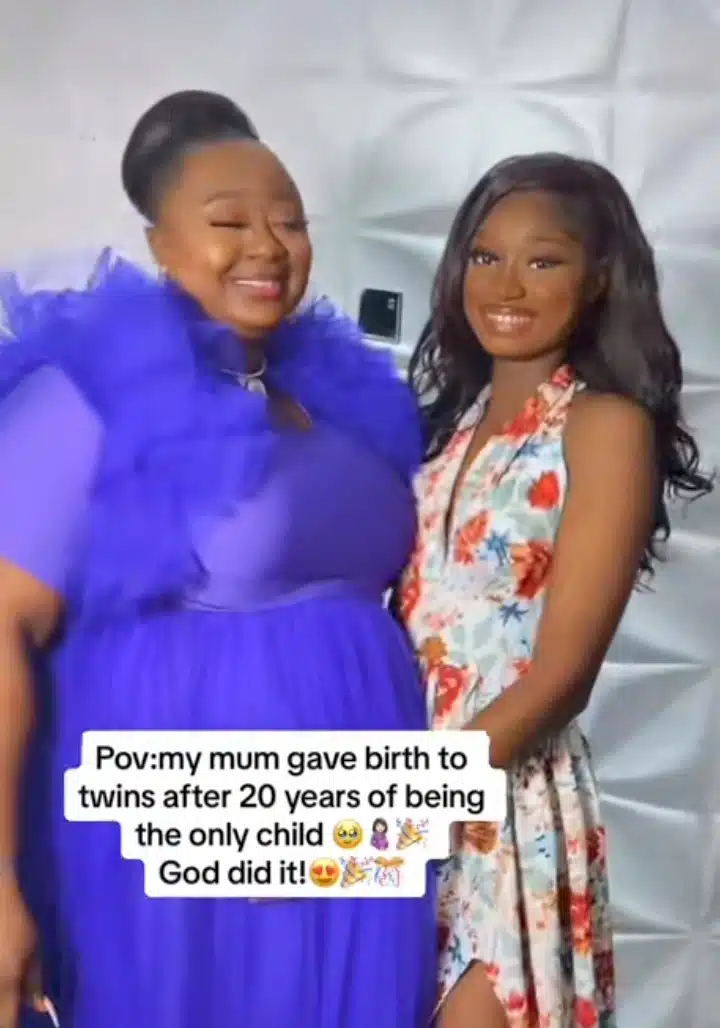 She was born in 2003, and since then, her parents had been eagerly awaiting the arrival of another child.
After a long wait of twenty years, they finally welcomed twins, and the young lady, excited to have younger siblings, celebrated by sharing her joy on social media.
She posted a video montage that captured moments of her mother's pregnancy with the twins.
Another part showed the heartwarming moment when her mother gave birth to the twins and could be seen cradling them.
In other news, media personality and actress, Toke Makinwa's sister, Busayo, and her husband Stian Fossengen, are expecting their first child after six years of marriage.
Toke Makinwa, who is filled with joyous excitement, shared the wonderful news on her Instagram page moments ago.
She posted stunning photos and videos from Busayo's maternity shoot and expressed her gratitude to God for their incredible testimony.
"This testimony has me in awe of God. I can't wait to share it. The Lord has remembered me. The Lord has parted the Red Sea. The Lord has broken the wall of Jericho.
"Dear Caleb and Rose, 30 years after, the Lord has extended your lineage Thank you Jesus. Thank you," "This one that you have done God, I will shout off your goodness till eternity," she wrote.