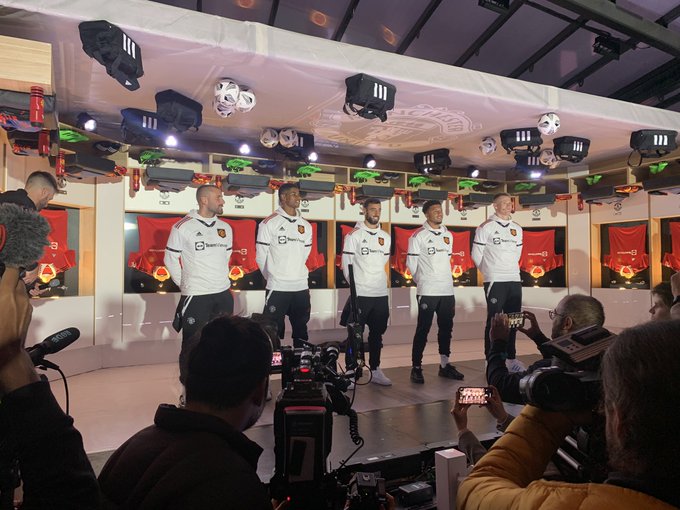 Manchester United have unveiled their new white away kit for the 2022-23 season with players taking over Federation Square in Melbourne to showcase their new strip.
Luke Shaw, Marcus Rashford, Bruno Fernandes, Jadon Sancho and Scott McTominay were all in attendance at the event in Australia to promote their new kit during their pre-season tour of Australia.
The kit was first revealed on social media on Saturday morning and is said to 'draw inspiration' from the club's philosophy of 'youth, courage and success'.
Similar to the home shirt, the new away strip has a retro feel to its design, with the club's crest being inserted in a shield reminiscent of the kit worn during the 1998-99 treble-winning campaign.
Melbourne Victory players queue for Man United autographs
It is the first time they will don a white away kit since the 2015-16 season.
United will wear their new away strip for the first time when they play Crystal Palace in Melbourne on Tuesday.
As reported by the BBC, Rashford said: 'It's a classic kit. It brings back lots of memories from the past – a lot of successful times for the club.
'Our job is to make those memories come true again.'
READ ALSO Ten Hag gets second Man United win and Rashford returns to scoresheet
Scores of fans turned up to see United stars showcase the new jersey during the event in Melbourne on Saturday afternoon.
There was a mix-up as the players were introduced on stage, with one of the presenters initially calling Sancho, only for the other to then bring Fernandes out onto stage.
United's reveal of the new jersey on social media has gone well with their supporters, with many calling the new strip 'beautiful'.
The Red Devils on Friday announced the signing of free agent Christian Eriksen, while Lisandro Martinez has jetted out to the UK to wrap up his £46million move from Ajax.
There is still a lot of progress needed to be made though on De Jong, who would prefer to stay at the Nou Camp.