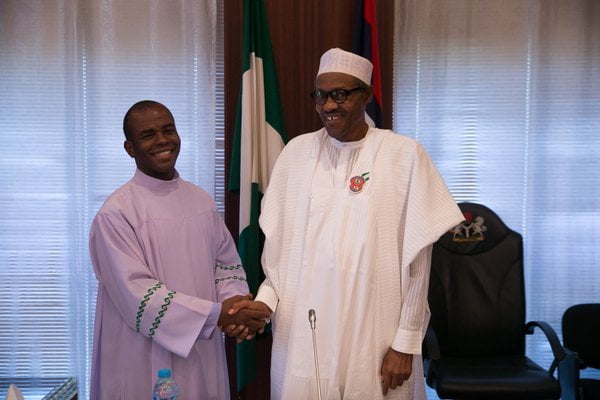 The Spiritual Director of the Adoration Ministry, Ejike Mbaka, has disclosed why he has been silent about the issues affecting Nigeria and President Muhammadu Buhari-led government.
Recall that Mbaka a few days called on the President to resign or be impeached due to the security challenges in the country.
The call saw the Senior Special Assistant to the President on Media and Publicity, Garba Shehu, accused Mbaka of voicing out because he was denied a contract by Buhari.
Mbaka in his reaction noted that he was silent about the decisions of the ruling government because he was waiting for the Buhari administration to change.
"Entrepreneurs are crying, those dying of hunger are more than those dying of insecurity in this country. There is stomach insecurity."
"I've been silent because I have been waiting for them to change but things are getting worse and I represent the downtrodden in this country."
He further stated, "There are some messages that are like dew, some are like thunder, anybody challenging my message is challenging god of thunder and should be careful."
Meanwhile, Mbaka, on Sunday described the leader of the Indigenous Peoples of Biafra, Nnamdi Kanu, as his spiritual son and brother.
Recall that Mbaka last week prayed that God will bless the IPOB leader for standing up for his people who are being maltreated by the government.