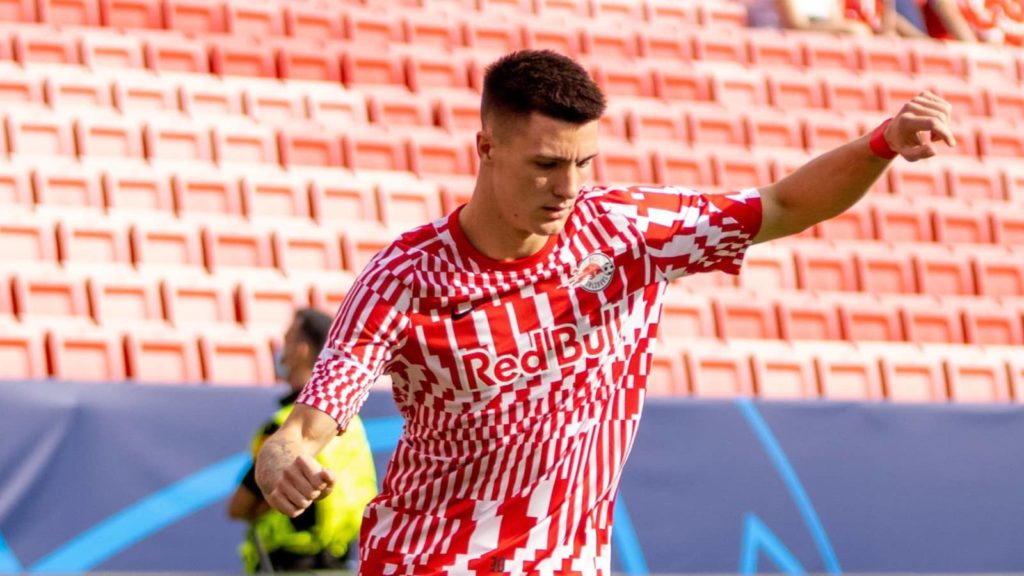 Manchester United face an even longer wait if they are to have any hopes at all of signing Benjamin Sesko, who is now reportedly on the verge of another 2023 transfer.
Sesko has emerged onto Manchester United's radar recently in their hunt for a new striker. Although he is a young option and may not be ready to be a regular starter immediately, he has been identified as a player with high potential.
The Slovenia international hit double figures of goals for the first time in his career last season. In 37 appearances across all competitions for RB Salzburg, he scored 11 times.
The current season has started well for Sesko, too. He has scored two goals from his first three appearances in 2022-23.
Subsequently, there has been speculation that he could be capable of a move to a bigger club. Manchester United have been looking at him, as have the likes of Newcastle and Chelsea, according to reports.
But there has been a feeling all along that Sesko will be staying at Salzburg for one more season before moving. Hence, any plans from the likes of Man Utd to take him this summer have been pushed back.
Now, their hopes of landing him in 2023 appear to be over as well. According to Fabrizio Romano, a deal is now close for Sesko to sign for RB Leipzig next summer.
Of course, it would not be an uncommon transfer route. Many players have progressed from one sister club to the other, making the step up from the Austrian Bundesliga to the German equivalent.
Sesko, for his part, is willing to follow along with the plan of sticking with Salzburg for one more season. Then, it looks likely he will become a Leipzig player.
READ ALSOReds set to rake in 30% of transfer fee from Alberto
Despite the German outfit's attempts to take him for this summer, Salzburg have held firm with their stance on keeping him until 2023. But a deal for that summer could be arranged this week.
Romano has also revealed that a contract until 2028 is waiting for Sesko in Germany. Hence, Leipzig will hope to help him with some of the most exciting years of his development.
According to Florian Plettenburg of Sky Sports Deutschland, the transfer fee for Sesko will be in the region of €24million (around £20.3m).
-->