A Facebook user, Rita Takaha has slammed a Nigerian man, Sunfavour Omeke, who complained about not having sex since his wife had a prolapse.
According to the post he made on Facebook, he and his wife have been married for five years and have four children but the prolapse has made it difficult for him and his wife to have intercourse for more than a year.


He wrote;
"Pls I want a quick reply to this.I have been married for 5 years now. I have 4 children already and I am 35yrs of age. My wife along the line developed problem of prolapse and we find it difficult to make love for over a year + and I am not been happy about that. I am moderately a Christian and I do not want any thing that will challenge my spirituality but at the same time have the urge for sex which I cannot resist and my wife is not healthy for it. It is already becoming issue to me bcos I want to free my self from not having sex and my concience is not permitting me to have sex outside my marriage. Pls advice me both spiritually, medically and naturally. I really want to free my mind."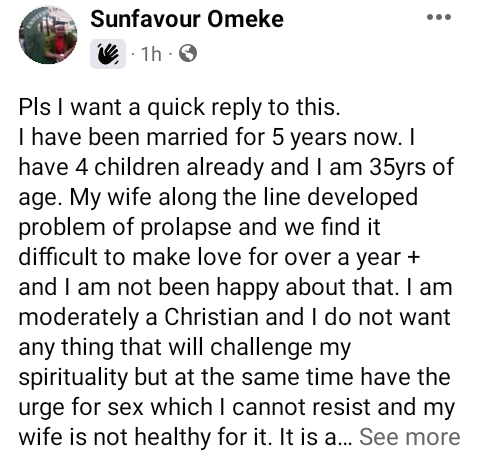 Prolapse happens when the pelvic muscles and ligaments become too weak or too stretched to support the uterus. As a result, the uterus slips down into or protrudes out of the vagina.
Reacting to the post, Rita accused him sexual abuse and advised him to wait for her to heal instead of complaining about lack of intercourse.
"It means that you have sexually abused her to this condition. The fact that you are married doesn't mean you should shift your wife's organ. I guess if you were the one in this condition, you would expect her to wait. So Oga, wait for your wife to recover first. When she recovers please take it easy on her," she wrote.