A Nigerian woman, identified as Gift Dinma, has taken to Facebook to seek advice after her husband stopped telling her his whereabouts.
The frustrated woman revealed that her husband goes out every night and whenever she confronts him about his whereabouts, he says she has no right to do so.
Dimma said she is fed up of this treatment, coupled with the fact that her husband no longer spends quality time with her.
Taking to a Facebook group to share her dilemma, Dinma wrote on Wednesday, June 7,
"Pls I need your advice, my husband always goes out every night and when u ask him where he is going to he will say it's none of my business that I don't have the right to ask him his whereabouts and am tired of that and we no longer spend time like we used to. pls what should I do?"
See below,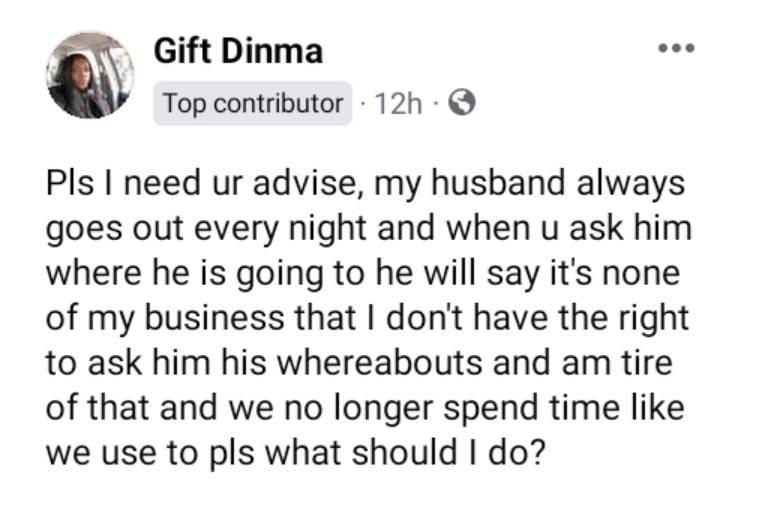 In other news, a young Nigerian man, identified as Mai Daraja, has narrated how he won the heart of a lady who always flaunts her boyfriend on social media.
Mai, who tied the knot with his beau Maryam recently, revealed that they met on Facebook and moved their conversation to WhatsApp.
However, he noticed that Maryam often posted about her then-boyfriend on her status, using endearing captions like 'half of my life'.
Knowing that he was interested in her, he expressed his feelings and appealed to her to give him half the attention that she gave her boyfriend.
Surprisingly, Maryam agreed to this request, and from that point on, their relationship grew and they are now happily married.