Nigerian food blogger and restauranteur, Hilda Baci, has courted controversy on social media after she posted a video of herself with freshly cooked dog meat.
It will be recalled that Hilda gained popularly after completing 100 hours of non-stop cooking in an attempt to break the record of the longest cooking time by an individual.


The chef, who hails from Akwa-Ibom state, is currently trending on Twitter over a recent video of herself and popular influencer, Enioluwa, showcasing various delicacies from her state, including dog meat.
In the video, Enioluwa expressed reluctance at tasting dog meat for the first time, but Hilda tried to persuade him to eat it and even tried to force-feed him.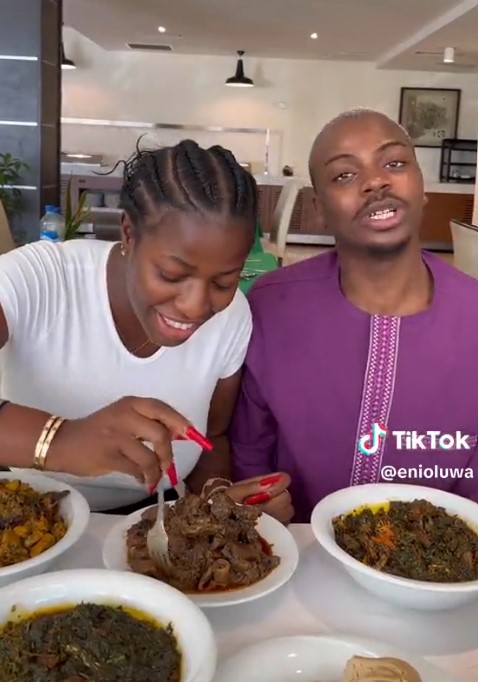 The short clip has sparked mixed reactions on the internet, with many sharing their displeasure with the famous chef for encouraging the consumption of dog meat. They further advised her to delete the video because it might affect her brand negatively.
Read some comments below,
@UncleCCA wrote, "Hilda Baci need to be very carefully. The dog meat video is a bad taste for her brand internationally.
There things she needs to avoid.
Dog is not seen as animals to kill and eat. It is a very sensitive video and it's in her best interest to take it down."
However, some persons defended Hilda, arguing that she did nothing wrong because dog meat is her local cuisine.
@real_me_abdul wrote, "If Hilda should gets demarketed because she eats dog, let it be so
Oyinbo People eat cow, abi cow gets different life ni?
Why changing our originality because we are looking for approval from people who created and living by their own rules? Hilda is a Nigerian, let her be."
@iamunwanaudoh wrote, "Hilda bassey comes from a place where dogs are eaten. She's not breaking any law. Her religion has no problem with that. The best thing you can do is to mind your business and leave us to eat our dogs in peace."
Watch the video below,