Nigerian transgender woman, Jay Boogie has urged straight men to be open to dating outside their comfort zone and try transgender women.
In a post shared on her Instagram page, Jay Boogie, opined that some straight men are unmarried because they are looking for loyalty in women which would always not work out.


According to her, many straight men's soulmate might be a transwoman.
She wrote;
"A lot Of You Straight Men soulmate Is Probably A Trans WomanThats Probably Why A lot Of Y'all Are Still Single And Relationships Can't Work And Can't Find Loyalty In Genetic Woman Pr@, YOUR SOULMATE COULD BE ANYONE!!!Love is Love And You Can't Stop Who It's Towards 💯"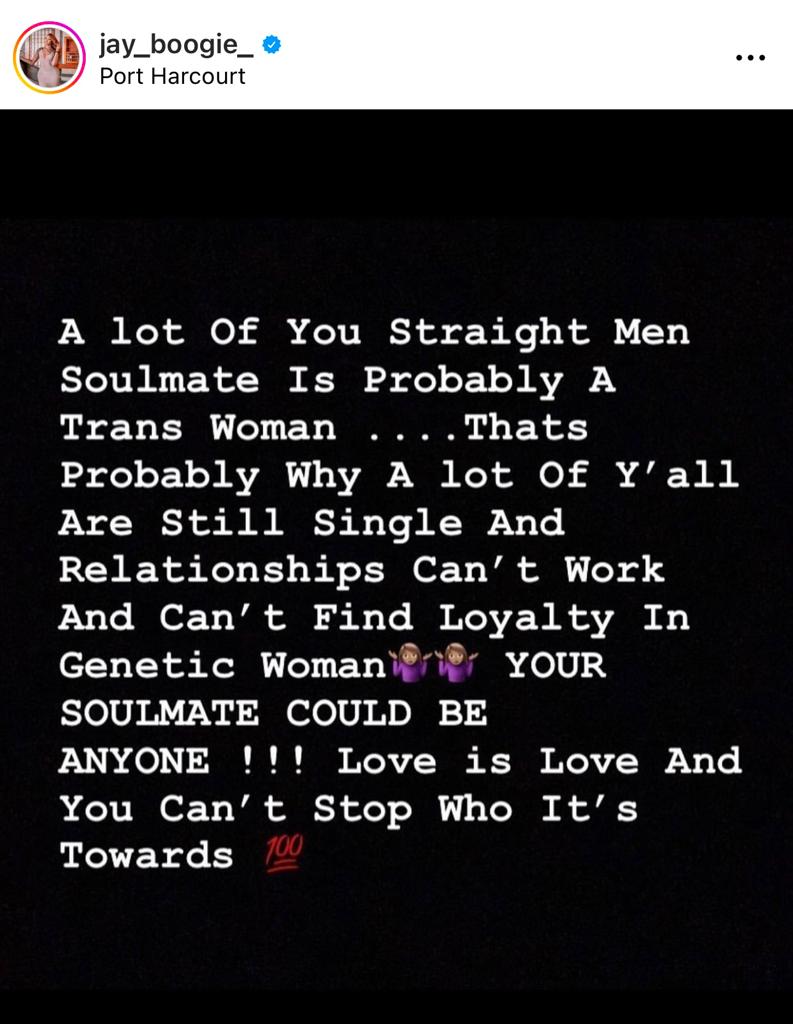 In other news, Nigerian crossdresser Bobrisky's former personal assistant, Oye Kyme, has made new damning allegations against him.
Oye Kyme, who has consistently called out Bobrisky since they parted ways in 2021, appears to still have a lot to get off her chest.
Taking to her Instagram stories on Wednesday night, she revealed fresh details about her relationship with her former boss.
The Ivorian posted an old video of them together in which Bobrisky referred to her as his daughter.
However, she pointed out that the "daughter-mother" relationship was a facade. According to her, while Bobrisky called her his daughter, they engaged in intimate activities on a daily basis.